Portsmouth City, Virginia
Lost Treasures
For These and
More Great Books
Know of good ghost town locations?
Email them to us and you and your club will receive full credit!
---
The hurricane of 1785 sunk many ships carrying cargo and other valuables, as well as pushing other ships inland and destroying many homes. Maluables from this hurricane have been found also in Newport News City, Hampton City, Norfolk City, Suffolk City, and Isle of Wright City.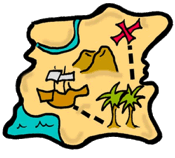 More information can be found in
---





We affilate with several partners to bring you
high quality Treasure Hunting supplies and equipment.
These affiliates include
CampingMaxx, Eastern Mountain Sports, Field Supply, and KellyCo.
We hope you find the Treasure Hunting Supplies and Equipment you are looking for
to ensure your success and enjoyment of your hobby.